Description
Edit
Also known as "Wagner estate", this mansion is the residence of US senator Charles Wagner and his family. It was built by Fabius Wagner, "back in the day".
A clue to the possible real word location of the manor (and of the events in "Lucius") is when Lagel and Dicosimo introduce themselves, they mention that they are from the Winter Hill diocese. There are 2 Winter Hills on Earth: one in North East England - UK and the other is a neighbourhood of Somerville - Massachusets, just north of Boston. Since Charles Wagner is a senator (which can only happen in the US), the second location is the most plausible as to the whereabouts of Dante Manor. Also, Winter Hill was famous in the 60's and 70's for it's irish-american organised crime groups which mostly dealt with fixing up horse races. This might explain Fabius's involvement with them.
Of course, there's also the possibility that the Winter Hill mentioned in the game might be fictional altogether.
Dante Manor is comprised of 3 levels: ground floor, middle floor, top floor.
Ground floor
Edit
Cold room
WC
Dining room
Kitchen
Freezer
Tea room
Lobby
Utility room
Garage
Storage room, wine cellar
Billiard room
Library
Bar
Middle floor
Edit
Mary's room
Susan Myer's room
Jovita Munez's room
Lobby, stairs to ground floor
Ivor's room
Michael's room
Alastair's room
Top floor
Edit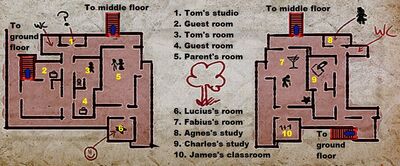 Tom's studio
Guest room
Tom's room
Guest room
Parent's bedroom
Lucius's room
Fabius's study
Agnes's study
Charles's study
James's classroom
It likely takes its name from Dante's Inferno written by Dante Alighieri as the first part of his Divine Comedy in relation of demonic forces. It is possible that Fabius named it this because of his satanic connections.