Nancy Wagner
Information
Date of Birth:
c.1943
Gender:
Female
Status:
Deceased
Date of Death:
June 4, 1973
Cause of Death
Shot in the nose with nail gun by Charles who was brainwashed by Lucius
Age:
30
Eyes:
Brown
Hair:
Black
Occupation:
Housewife
Voiced by:
Unknown

Nancy Wagner is the wife of US senator Charles Wagner and the mother of Lucius. She is in her 30's and is constantly patrolling the manor, monitoring the goings on of the house.
She insists that Lucius receives the best education by providing him with a private tutor and watches that he is kept busy with chores around the house, even if they are a little debasing for a child of Lucius' status. (helping with dishes, picking up dirty laundry, taking out the garbage)
The opening intro suggests that giving birth to Lucius was an extremely painful and possibly traumatic experience for her, which left her with a quite delicate mental balance. This becomes apparent as the story progresses, especially after the sixth chapter, when the driver Michael notices that "the lady of the house is losing it". She begins to sing to herself "Sur le pont d'Avignon " and towards the closing chapters is showing visible signs of anxiety and fatigue.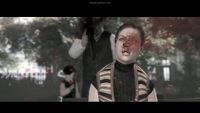 She appears for the last time in the 16th chapter.
She gives Lucius both repeatable and unique chores. The repeatable ones involve cleaning up his room and brushing his teeth while the unique ones involve taking out the trash and finding a pair of lost earrings (no longer true since the last game version. All chores all now unique).